Download Cards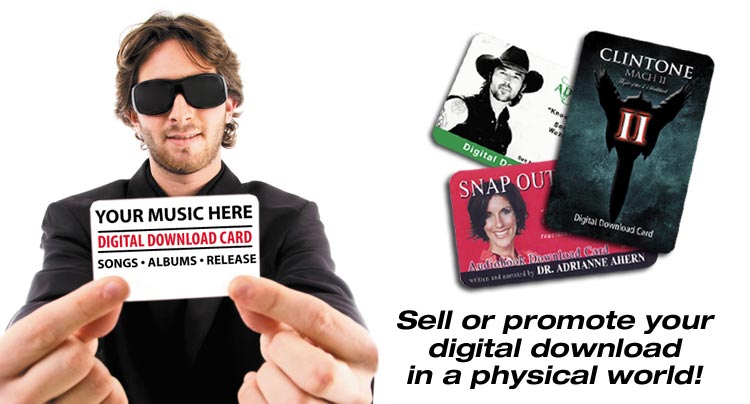 What are Download Cards?
Discark Download Cards are small, usually business card sized, cards that you may sell or give away as you would a regular album, single, DVD, audio book, etc. Each card has a unique code printed on it that your fans/customers simply type into the "Redeem Download Card Here" box on the Discark homepage. This brings them to a page where they can download the corresponding product.
If you have a music album on Discark, you may sell the entire album or just a single track with your Download Card. Also, you have the option of requiring your customers to enter an email address to get their download. This will help you keep your customers up to date on new products and events. If you don't need their email address, that's OK too.
For more information, see our Download Card information page on Discark.
Special Offer
For a limited time only, When you order 200 or more CDs or DVDs, get a free 200 piece Download Card package.
Your free Download Card starter pack includes:
A free listing and set-up on Discark, the Internet's coolest place to sell your Digital download
200 standard sized Digital Download Cards
Free design and layout of card
Fulfillment for up to one year
Demo
Go to discark.com and enter the code below (XYZ123) into the "Redeem Download Card Here" box to get a free download of Pennyview Theatre's "Money" single.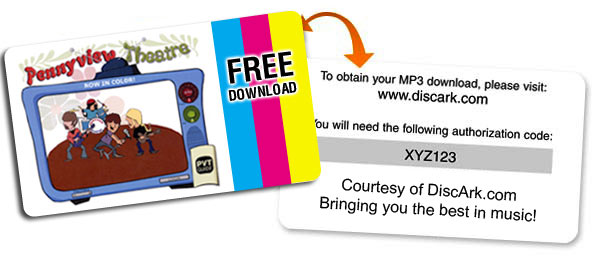 Click here to download templates for your Download Card.